Miele
Founded more than 115 years ago in 1899 by Carl Miele and Reinhard Zinkann, Miele is a German manufacturer that supports the passion for a cleaner, more comfortable, and healthier home. The Miele name is displayed on some of the highest-quality domestic appliances and commercial equipment in the world. Their goal is to be seen by worldwide markets as providing an undeniably topnotch household product.
JD Power and Associates ranked them number one for customer satisfaction for upright and canister vacuums in 2013, and also for uprights in 2012. All Miele products carry the Good Housekeeping seal of approval, as well as the Good Housekeeping Green seal of approval. After rigorous research and testing, the Good Housekeeping seal of approval is given to products that perform above average and do everything they claim to do in their packaging and advertising. With all products carrying this seal, consumers can be confident in their decision to purchase a Miele machine. Their products are also ranked highest in clean air technology and H.E.P.A. filtration.
The critical aspects of Miele products include energy efficiency, durable domestic and commercial appliances with minimal environmental impact through product life-cycle, reliability, easy and safe product operation, and production that complies with sustainable social standards. Their products comply with strict guidelines in terms of quality, product life, function, and sustainability. Miele's focus on the entire product life cycle in research and development benefits the customers and the environment, while minimizing the resources used.
Miele always aims to put the customer at the center of attention. Independent empirical customer surveys consistently confirm that the company follows through with this philosophy.
Waldorf Sew N Vac and Severna Park Sew & Vac have proudly been carrying Miele's award winning collection of vacuums since 1985.
Riccar
Riccar is a niche market company that builds world-class vacuum cleaners in their factory in St. James, Missouri. Riccar vacuums are designed to clean better and last longer than mass produced vacuum cleaners purchased at department stores, discount stores, and online marketplaces. They are hand assembled by American workers and built with superior components. Riccar is also a proud sponsor of the American Made Matters initiative. With many American manufacturing jobs moving overseas, the economy has taken a major hit. The American Made Matters mission seeks to teach consumers the significance of the American dream. They believe that by buying American made products, the American dream is strengthened.
They developed their revolutionary Tandem Air technology by combining the two main technologies that were available: direct air and clean air. Each offered positive qualities—the direct air provided superior cleaning and the clean air provided advanced filtration and convenience—but neither offered the superb combination of both. Riccar decided to be the first to merge the two and it resulted in a premium-cleaning device that featured advanced filtration and the convenience of on-board tools. They decided to call the new technology Tandem Air.
Riccar products have received a gold rating from the CRI (Carpet and Rug Institute), ranked highly in customer satisfaction by JD Power and Associates, and received satisfactory ratings by other leading consumer magazines. Each vacuum that carries the Riccar name is designed not only for remarkable cleaning performance, but also with the long term in mind. This is why their machines have metal parts and carry a 1-5 year warranty for parts and labor. The Tandem air machines, Radiance and Brilliance carry up to 8-year warranties.
Waldorf Sew N Vac and Severna Park Sew & Vac have been selling Riccar vacuum cleaners since 1983.
Royal
In 1905, the P.A. Geier Company created the first Royal vacuum cleaners in a backyard garage in Cleveland, Ohio. Thus making Royal the oldest vacuum cleaner label in the United States. It didn't take long for the company to grow too large for a garage. They split the company into two divisions, a cleaner division and a machining division, moved into a bigger building, and began producing mixers, hair dryers, washing machines, and other devices. However, vacuum cleaners remained the central creation, and in 1937 Royal presented the first hand-held vacuum cleaner, deemed the "Royal Prince."
Ownership began a course of transfers in 1953 and the company was renamed Royal Appliance Manufacturing to better describe its product line and highlight its famous machines. Currently, the company is owned by TTI Floor Care, which also owns Hoover, Dirt Devil, and most recently Oreck vacuum cleaners.
Royal offers a complete line of quality products for household and commercial use. Their products are only sold through independent retailers to assure customer satisfaction and serviceability. The company philosophy focuses on customer satisfaction and quality products, to assure a comprehensive solution to all cleaning problems. These consistent company values have continuously built an esteemed brand and loyal customer base.
Here are Waldorf Sew N Vac and Severna Park Sew & Vac, we are proud to offer our customers the Royal brand: a line of vacuum cleaners with such a respected path through floor care history.
Dyson
James Dyson set to work in 1978 after becoming frustrated with his vacuum cleaner constantly clogging with dust, and therefore losing suction. After building an industrial cyclone tower for his factory that used centrifugal fore to separate paint particles from the air, he wondered if the same idea could work for a vacuum cleaner. Five years of consistent hard work and over 5,000 prototypes later, Dyson created the world's first bagless vacuum cleaner. After great success with this vacuum, called the G-force, James Dyson created the Dyson Company in 1993.
Today, Dyson machines can be found in over 65 countries. One man with one idea has now expanded to a technology company with over 1,000 engineers worldwide, with the number endlessly growing. The team at Dyson is dedicated to innovation and works each day to improve their machines. Though they started with vacuum cleaners, they now develop innovative hand dryers, fans and motors – all of which resolve issues long forgotten (or ignored) by most other manufacturers.
Dyson, the leader and innovator in bag-less technology, is the winner of many awards worldwide, including the Industrial Design Prize of America, and James Dyson being titled designer of the decade. Many of their products have been certified as Asthma & Allergy Friendly, and JD Power and Associates also rank Dyson products incredibly high for customer satisfaction.
Dyson engineers, with a knowledge of geometry and pioneering materials, pride themselves on doing more with less; less materials, less weight, and less waste. Their machines are strong and light with structural integrity.
Sirena
With 20 years of experience in the vacuum industry, the founder and CEO of Sirena knew that the most efficient and dependable vacuum cleaners were water-based. Unfortunately, all superior water-based cleaning systems were sold through direct sales, which consequently made them very expensive. He put his experience and determination to work to create a high-quality, yet affordable water-based vacuum.
Like Mother Nature, Sirena uses a water-based filtration system, eliminating dust, dirt, and dander in the air. The Sirena is indeed very similar to a Rainbow vacuum cleaner manufactured by Rexair in Troy, Michigan. However, it is Canadian designed and engineered, and is now available through retail establishments, rather than direct sales. You'll never have to buy bags or filters again with this natural and healthy cleaning solution. By forcing air into the water using separator technology, dirt is kept from being exhausted into the air. Sirena eliminates dust mites, imbedded carpet dirt, pet dander and fur, household odors, ragweed, and smoke.
What sets Sirena apart from the Rainbow vacuum cleaner is the affordable pricing. Sirena offers a powerful and effective, yet economical choice for consumers who are concerned about their environment. It is a first-rate home cleaning system that cleans your home in ways that old-fashioned vacuum cleaners cannot. Sirena features a quiet mode to remove dust and odors from your home, and the ability to add fragrances to transform into an air freshener or deodorizer. With no bags or filters to clog, Sirena cleans 100% of the time and at 100% efficiency. The benefits of Sirena are plentiful; It is healthy, natural, does not clog, returns clean air into your home, cleans with 100% efficiency, is easy to use and is affordable. It is the amalgamation of contemporary design and engineering, built on years of experience. Your floor will never know the difference between the Sirena and the Rainbow vacuum cleaner, but your wallet sure will.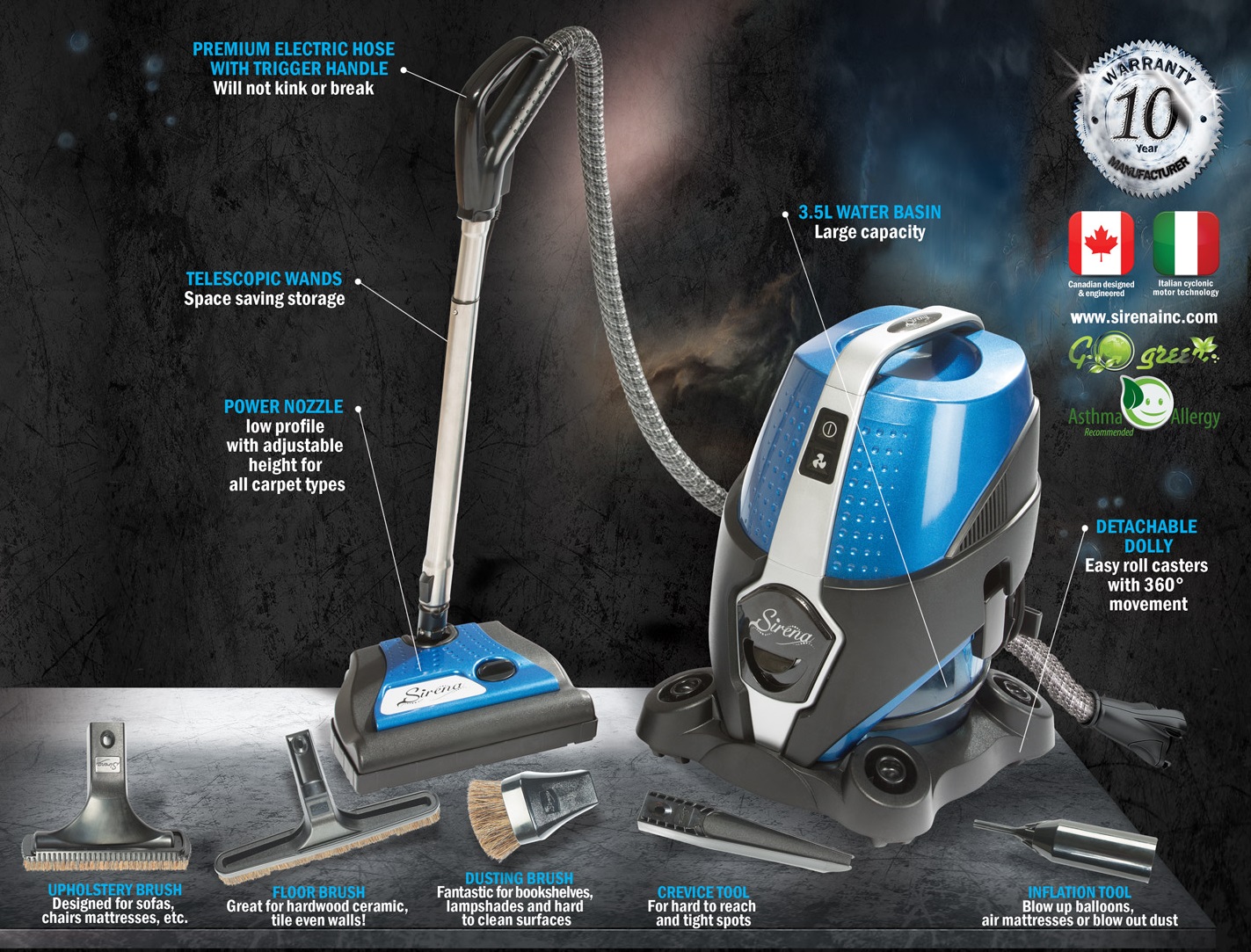 Perfect C103
The Perfect C103 PowerTeam is not an Electrolux vacuum cleaner. It is a lightweight, plastic canister vacuum cleaner modeled after the older style Electrolux canister vacuums. However, its plastic body construction provides for a lighter weight design – only 9 lbs! – without sacrificing any performance power.
When the old American Electrolux Company became Aerus, LLC in 2001 they continued to manufacture only the higher end vacuums, formerly named the Electrolux Guardian and the Electrolux Renaissance. In order to fill the void (and demand) for the older American Electrolux traditional models and designs, such as the LE series, Perfect built a tribute line of vacuums, which includes the C103. These are not just replicas of the former Electrolux machines, but are quality machines that rival the performance and durability of the traditional line of products sold throughout the '70s, '80s, and '90s. The Perfect vacuum cleaners are so similar to the old machines that even the hoses, power nozzles, cord-rewinders, and motors will fit many of the traditional Electrolux machines to keep these old vacuums running well into the 21st century.
The Perfect C103 is not an Electrolux, but it is just as durable and is built to last a lifetime. It comes with a 42-inch telescopic wand, a 3-way combination tool (dust brush, upholstery tool, crevice tool) for versatile cleaning solutions, and a 12-inch wide mouth horsehair floor tool. Its 360-degree swiveling handle makes cleaning a breeze, and with its AmetekAdvantek powered motor, it uses 10% less energy and produces 20% more power than most home vacuums.
All Perfect products are CRI Green Label Certified.In order for a vacuum to meet CRI Green Label standards, it must pass independent laboratory tests in soil removal, dust containment, and surface appearance change. The Perfect C103 provides true green cleaning and superior indoor air quality. Each vacuum is engineered to withstand the heaviest abuse, yet continue to clean without any down time.
The Perfect C103 is not an Electrolux made by American Electrolux – now Aerus – and is not in any way affiliated to the new Electrolux made by Eureka as part of the AB Electrolux conglomerate. However, if you're accustomed to the old design of the Electrolux LE vacuum, you'll love the Perfect Plastic Canister C103 PowerTeam canister.