Whether Your Old Vacuum Just Isn't Cutting It Anymore, or Can't Seem to Reach All the Places You Need It to, We've Got What You Need.
At Sew N Vac, we offer a wide variety of quality vacuum cleaners to suit your cleaning needs and your budget. While opting for the cheap big box store vacuums may be tempting, you'll be sacrificing quality. That's why we only offer premium vacuum cleaner brands – like Miele and Riccar – that satisfy and last for years to come.
Plus, when you purchase your vacuum cleaner from our retail location in Waldorf, Maryland, you'll receive unlimited product education and instruction. Whether you're looking for guidance on vacuum filter replacement and frequency or simply forgot what a specific attachment does for your vacuum cleaner, stop back in and we're happy to help.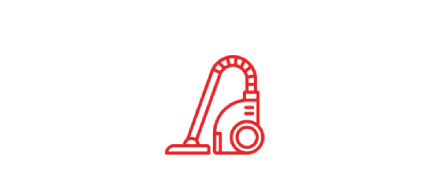 Waldorf Sew N Vac has been a regional showroom for Miele vacuum cleaners for over 20 years. Miele vacuum cleaners feature industry-leading cleaning technology and a superior sealed system, which is world-renowned for its ability to capture and retain dirt and dust particles. Their combination of cleaning and filtration is unsurpassed in the industry.
We offer a wide variety of models including The U1 Cat and Dog, H1 Swing, C1 Classic, C1 Compact, C1 Cat and Dog, C2 Electro, C3 Marin, C3 Calima, C3 Brilliant, or their equivalent Home Care line of products. As an authorized Miele dealer and repair center, we carry Miele's Home Care product line, which is not available online or from box stores and national chains. The Home Care line equips customers with Miele's best product warranty: a five-year comprehensive warranty and a 10-year motor and casing warranty. This is in contrast to the one-year comprehensive warranty and seven-year motor and casing warranty applied to standard models sold on the internet and in national chain stores. Many Home Care models also come with added bonus accessories and are priced similarly to the comparable standard model.
Since 1983, Waldorf Sew N Vac has proudly sold Riccar vacuum cleaners. These world-class vacuum cleaners are exclusively made in the USA, in the Riccar factory in St. James, Missouri, with globally-sourced and American components. Their products are only sold through independent dealers that also provide service for the products they sell.
The brand is famous for its use of aggressive agitation for deep cleaning, and most models include a metal or wooden agitator. They're the only manufacturer to offer this high level of agitation, making Riccar vacuums the best machines for removing both pet hair and embedded dirt.
We offer the R10, R20, Vibrance, R30, and R40 lines of Riccar vacuum cleaners, which all offer exceptional cleaning power at affordable prices. The R20 and Vibrance lines provide impressive durability, which we routinely see lasting a decade or more. The R10 lightweight vacuum cleaner line is the most powerful in its class, and features the only full-sized battery-powered vacuum cleaner on the market. The R30 Brilliance line offers exceptional cleaning power and extraordinary versatility for hard surface and above the floor cleaning, while the R40 offers an even more powerful version that's considered to be the best cleaning and most versatile vacuum on the market. Both the R30 and R40 feature Riccar's Tandem Air Technology, which combines a clean air suction motor (like a Shark or Dyson) and a direct air motor (like a Kirby or Oreck) to take on the toughest messes, regardless of the surface. The brand rounds out its offerings with portable canisters, hand vacuum cleaners, and stick vacuums, all of high quality and exceptional value.
Recognizing the need for premium brands to have a quality support and service network, we partnered with Dyson when they first entered the US market as an authorized service provider. As a long time Dyson service facility, Waldorf Sew N Vac continues to repair Dyson vacuum cleaners at the highest quality standards. We buy original factory parts directly from Dyson's authorized parts supplier, and quality aftermarket parts and accessories from the same supply house. We also repair Dyson vacuum cleaners for resale as refurbished or used vacuum cleaners.
After a long pause, Waldorf Sew N Vac is now an authorized dealer for Oreck vacuum cleaners. The commercial models, as well as the more developed household models, are all made in the USA. As a long-time innovator of the upright vacuum cleaner used in hotels, Oreck continues to make the best lightweight vacuum cleaners around. They also offer the best-known handheld, portable vacuum cleaner in its class, the Buster B. We look forward to adding more innovative products to our showroom as they develop. We service and repair all Oreck models with factory parts or high quality after-market parts. With 37 years of experience repairing Oreck vacuum cleaners, and new commercial and household Oreck vacuum cleaners in stock, Severna Sew & Vac and Waldorf Sew N Vac can take care of all of your Oreck needs.
Waldorf Sew N Vac has 60 years of experience servicing, repairing, and rebuilding Kirby vacuum cleaners. Customers come from all over the Southern Maryland, Washington DC, Baltimore, and Annapolis areas to have their Kirby Generation 3. Generation 4, Generation 5, Generation 6, Ultimate G, Ultimate G Diamond, Sentria, Sentria 2, Availiar, and Avaliar 2 model vacuum cleaners repaired.
Over the years, we've acquired a variety of different Kirby models, which have been either refurbished or fully restored, and are now on sale in our showroom. It's taken us many years, but thanks to quality work and knowledge of Kirby vacuums, we've built up repair loyalty throughout the Baltimore, DC, and Southern Maryland areas.
We are not affiliated with Scott and Fetzer, the manufacturer of Kirby vacuum cleaners, but we use genuine Kirby parts to repair and rebuild these vacuums to the highest standard. Rather than purchase a new Kirby, stop into one of our locations and for a fraction of the cost, we can repair or restore your existing vacuum to like-new running condition.
With very limited parts distribution, some models from Shark's extensive line of vacuum cleaners can be difficult to repair. That being said, our experienced staff at Waldorf Sew N Vac does their best to repair your Shark vacuum cleaner whenever possible. As the number one box-store brand, Shark's machines are priced to be replaced if and when major components fail. Since availability of repair parts from their website (sharkclean.com) is limited, we have replacement machines available for reasonable prices if we can't fix your Shark. We often accept these vacuums as trade-ins for similar models or upgrade to better models at customer's requests.
The first water-based filtration vacuum cleaner was developed by Rexair Rainbow in the 1930's. These machines have a loyal support base, but high cost of replacement, so they're often repaired instead.
Waldorf Sew N Vac has been repairing and rebuilding Rexair Rainbow vacuum cleaners with factory parts and quality-replacement parts for 20 years and 37 years, respectively. Stop by our retail locations so that we can make your Rainbow run like new again for a fraction of the cost of a new one.
In the past, Simplicity was the sister company to Riccar. After years of duplicating the same products and marketing them separately, Tacony Corporation decided to take the Simplicity name and design a new line of products for internet and other distribution in 2019. As these products develop, we will have access and will carry those that will best suit our customer base. Waldorf Sew N Vac will continue to support the Simplicity brand and provide repair services for the product line during this transition.
Waldorf Sew N Vac has Cyclovac Central Vacuum Systems on display. Our focus is on repairs of existing systems and replacement units if the older system is beyond economic repair. We sell complete systems, central vacuum units, attachment kits, hoses, bags, power nozzles, and floor brushes, and do service calls to inspect your system for repair.